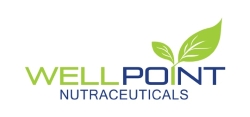 OUR FUNDAMENTAL PURPOSE
WELLPOINT NUTRACEUTICALS is an established private company whose fundamental purpose and focus is on formulating and developing proprietary Herbal Medicinals focusing on supporting optimal Health and Wellness.
WELLPOINT NUTRACEUTICALS formulations have been time tested, and refined to offer the very best quality professional herbal medicinals. All of our products are formulated and manufactured in Canada, under the strict standards mandated by Health Canada. All of our products are authenticated by DuPont Anti- Counterfeit and Authentication security to ensure our customers are able to verify that the product is formulated and manufactured in Canada by WELLPOINT.
Our manufacturing facility is GMP certified by Health Canada. Other certifications include NSF International (The Public Health & Safety Organization), NSF-GMP for Sport Certification, GMP requirements in NSF/ANSI Standard 173, Section 8: Dietary Supplements, Health Canada NHPD site licensed with ITC (International Trade Certificates).
Our Research and Quality Team all work closely together to deliver Quality Herbal Medicinal formulations to our customers.
WELLPOINT NUTRACEUTICALS conducts business based on operational excellence, integrity, transparency, mutual respect and collaboration.